"Travelling is the only thing you buy that makes you richer." More and more people consider travelling as a way to broaden their horizon. Asia is the "rising star" of the global tourism industry and Wanderlust Tips would like to introduce five Asian travel trends which are becoming increasingly popular.
REMOTE LUXURY
Speaking of luxury travel, you may think of expensive hotels with views of the majestic Mount Fuji in Japan, or luxury suites located in the expensive Gangnam district in Seoul, Korea. However, people now have a new definition of luxury travel, which is enjoying a quiet and private holiday with amenities and experiences beyond expectation in a remote land, or a private island with no inhabitants. This is a new favourite trend of visitors from around the world when choosing Asia as their vacation destination.
With its advantages of diverse landscapes, pristine nature with mountains, sea, rivers, and caves, Asia is an ideal destination for visitors who are looking for relaxation at high-end accommodations that are close to nature, offering private and intimate spaces for visitors and completely separated from the outside world. Visitors can opt to stay in the bamboo forest in the Golden Triangle in Thailand or the idyllic private island, Song Saa, in Cambodia. They can even enjoy the excitement of sleeping in a royal tent amidst the pristine wilderness of Ranthambore National Park in India. In order to reach such resorts, visitors are picked up by seaplane, cruises or other unique means. It makes these remote destinations even more attractive.
After arriving, in addition to enjoying the quiet space, completely immersed in nature, visitors can also participate in unique activities such as elephant riding, kayaking, attending Taichi or yoga, cooking, scuba diving classes, or trekking and exploring the forests. A holiday in which you disconnect from the outside world, stay away from technology, no longer thinking about work or problems of life will slow you down, purify your body and regenerate energy. However, the cost of these vacations is very expensive, prices in these remote resorts range from USD1000 per night per room.
Suggested destinations:
– Four Seasons Golden Triangle, P.O. Box 18, Chiang Saen Post Office, Chiang Rai, 57150 Golden Triangle, Thailand | Tel: +66 53 910-200
– Aman-i-Khas, Sherpur, Khiljipur, near Ranthambore National Park, SawaiMadhopur, Rajasthan, India | Tel: +44 20 3519 2700
– Koh Saen Private Island, KohRong Archipelago, near Sihanoukville, Cambodia | Tel: +855 23 886 750
MEDITATION RETREAT
It is not necessary to go far or take part in adventure activities to find relaxation. Sometimes, a trip will be more meaningful when you practice meditation to explore your inner world. For those who are living in narrow and polluted spaces in a city, a meditation retreat is a chance to bring you back to nature, find your true self, and practice mindfulness meditation with the breath, the traditional practice of Buddhism.
There are many meditation retreats around the world, but Asian meditation retreats are more authentic. The greatest goal of meditation is to help raise awareness and gain insight, joy, and optimism about life. Amidst modern life, human beings are gradually finding ways back to nature and their own ego. Guests can take part in Ayurvedic meditation class ("the knowledge of life"), an Indian traditional meditation technique, find the meaning of a peaceful life with meditation in Cambodia, or enjoy mindful eating in meditation style by eating with a relaxed and quiet mind in Hue, Vietnam.
This type of meditation retreat directs visitors to travel to destinations with humanity, sacred and fresh places to bring a positive and comprehensive change to the visitors, leading them to a healthier and more balanced lifestyle.
Suggested destinations:
– Osho International Meditation Resort, 17, 1st Lane, Koregaon Park, Pune, Maharashtra 411001, India | Tel: +91 20 6601 9999
– Siam Healing Center, 94/3 Moo 1, Koh Phangan 84280, Thailand | Tel: +66 89 965 8752
– Balitrees Retreats, Megati, Sedan, Tabanan Sub-District, Tabanan Regency, Bali 82162, Indonesia | Tel: +62 813-3890-8565
WELLNESS TRAVEL 
The demand for wellness travel is growing as tourists tend to use their holidays as a way to relieve stress, take care of the whole body and mind, and regenerate energy. Asia is an ideal destination for a variety of mysterious, natural and effective rehabilitation and wellness therapies.
Wellness travel is a harmonious combination of health and spirit treatment. Resorts and hotels which offer services relating to wellness travel in Asia promise to offer the best fresh space with ecosystems of tropical forests, hills, rivers, streams, and lush green lakes.
In Asia, Detox treatment combined with relaxation and an appropriate diet focus on helping the body to be purified, eliminating toxins to maintain good health and a positive spirit. Guests are taught yoga techniques that help detoxify, cleanse the body, and regulate the airflow in the body. Visitors can attend lifestyle and physical training class and talk to dietitians who assist in improving their diet in order to keep their own body healthy and fresh every day. When combined with massage therapies, acupressure, ancient herbal therapies of Asian people, it will help visitors to be refreshed and full of energy after the holiday.
Experiencing wellness travel in Asia, visitors can choose to stay in resorts amidst the tropical jungle in Indonesia, hot springs in Malaysia, detoxify a sauna in Korea, or experience unique onsen baths in Japan.
Suggested destinations:
– Permai Rainforest Resort, Teluk Penyuk Santubong, Jalan Sultan Tengah, 93050 Kuching, Sarawak, Malaysia | Tel: +60 82-846 490
– Hangzhou Banyan Tree Spa, 21 Zijingang Rd, Xihu Qu, Hangzhou Shi, Zhejiang Sheng, China, 310000 | Tel: +86 571 8586 0000
– Kusatsu Onsen, Kusatsu, Kusatsu-machi, Agatsuma-gun, Gunma 377-1711, Japan | Tel: +29 88 0800
EXPERIENCE-FOCUSED TRAVEL TREND
Travelling like a local is a trend-focused on experiences, in which visitors try to learn and explore typical local things in a region. According to a survey, 35.1% of travellers choose Asia as their destination for experience-focused travel, in which South-East Asian countries such as Indonesia, Thailand, Vietnam, and the Philippines make up 17% of the total. It can be said that for foreign visitors from the Western world, Asia is a religious, historical, cultural, and mystical destination. Visitors travelling to Asia want to gain a diverse and exotic experience in every aspect of life such as culture, cuisine, and customs.
In addition, in Southeast Asia's countries, especially Vietnam, the experience-focused travel trend is extremely developed. Visiting the S-shaped country, you can take a motorbike tour to Ha Giang, the rocky plateau, explore the history through the traces of war in Hanoi, or down to the Mekong Delta to enjoy cuisine in a floating village area. In Indonesia, visitors have to use their hands to eat Gado-Gado, sleep next to the dead like Toraja people. Visitors can sit on a boat to watch the whale sharks in Donsol, Philippines, which is a unique experience only found in Southeast Asia.
Experience-focused travel requires travellers to get a deep insight into the life of locals and change new things to new experiences through living with the locals and eating as local people do, then learn about their special customs. Experience-focused journeys will give you many new perspectives on life.
Suggested destinations:
– Living with the Mong people, going to the highland market, or taking the challenge of throwing stones to the cliff on Tham Ma Pass in Ha Giang, Vietnam
– Snorkeling to watch the whale sharks at Donsol Bay (Philippines), Koh Tao (Thailand)
– Enjoying cuisine made from insects at famous restaurants in Lao such as KhopChaiDeu (54 Sethathirat Rd, Nam Phou, Vientiane), Kong View Restaurant (No. 183 Souphanouvong Street, Vientiane)
AGRITOURISM – THE RISING TRAVEL TREND IN ASIA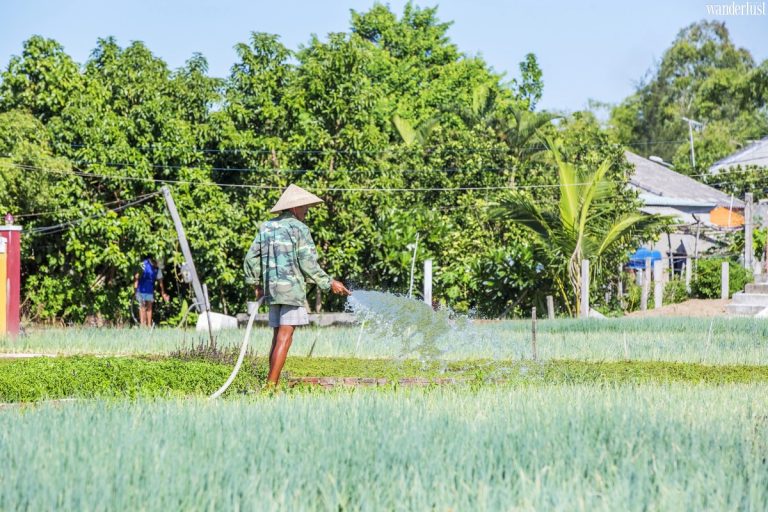 Agriculture is considered a key economic sector in Asia, especially in Southeast Asia. The development of agritourism plays an important role to recover and contribute to the economic development of the region. Agritourism is considered a type of tourism, in which tourists can experience a variety of activities in an agricultural process.
At present, agricultural tourism is divided based on destinations such as scenic spots and agricultural production sites. Here, visitors can participate in useful agricultural experiences. You can go to the Wagyu Farm in Japan to witness the well-qualified life of the Wagyu, enjoy beef of USD300 per kilogram. Or you can visit Vietnam to meet local farmers, visit fish farms and large paddy fields, or experience the activity of growing vegetables in Hoi An. Visitors can also travel to Taiwan to enjoy fresh fruit and pick fruit at Tan Phong Garden in Xinshe, Taichung. At Xinshe Garden, there is also an amusement park, catering services and accommodation for visitors.
Suggested destinations:
– Exchanging information and learning about cultivation techniques, ways to take care of and harvest vegetables with local farmers in Tra Que vegetable village, Hoi An, Vietnam
– Learning to take care of, feed and massage the cows at Wagyu Farm in Japan
– Enjoy fresh fruit and fruit picking, milking the cows, feeding calves or enjoying fresh milk at Tan Phong Garden, Xinshe, Taichung, Taiwan.